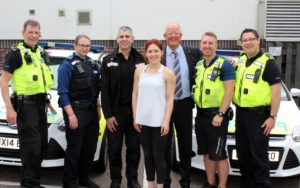 At the heart of PMS' work is Community, of which the Police are an integral part.  They deal with some of the most difficult cases of conflict.
Portsmouth, Waterlooville and Havant have excellent Neighbourhood Patrol Teams who believe in the importance of restorative solutions.  The PMS team has been working hard since 2015 to establish a strong working relationship with our local police.  In February 2016, PMS bid for £5000 from the Office of the Police Crime Commissioner (OPCC) through their Restorative Approaches Capacity Development Fund, which was approved in March of that year. It was a triumph to have our important work acknowledged and invested in by the OPCC, and this allowed us to accelerate our Police Partnership Programme.
In 2017 PMS focussed on streamlining the Police referral process, making it easier for police to use our service and clarifying the types of cases PMS can accept. This was achieved through regular station visits to talk to police about the service PMS can provide.  Already it is evident that this increased visibility is making it easier and more appealing for police to refer to PMS.  With police resources coming under increasing pressure, PMS is well-placed to offer support to the police as an effective person-centred way of resolving many situations of conflict.